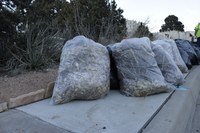 Solid Waste Management Department Offers Fall Green Waste Pickup – A FREE service offered to Solid Waste customers.
City Solid Waste Management residential customers should mark their calendars for the City's Fall Green Waste collection. The City of Albuquerque Solid Waste Management Department's (SWMD) Fall green waste collection begins and will run from Monday, November 30, 2020 through Friday, December 11, 2020.
SWMD will collect residential green waste at no additional charge. SWMD customers should have their green waste at the curb by 7 a.m. on their regular trash and recycle collection day.
Continue reading