CONSTRUCTION UPDATE: 7 BAR LOOP TO BE CLOSED AT WESTSIDE BLVD
FOR ONE WEEK BEGINNING MONDAY, NOV. 7, 2022
Update as of Thursday, Nov. 3, 2022
From Monday, Nov. 7, 2022, through Monday, Nov. 14, 2022, 7 Bar Loop will be closed at Westside Blvd. so that crews can repair the valley gutter in the area as part of their final punch list, closeout activities for the Westside Blvd. widening project.
During this closure, local traffic can use La Sierrita as the detour.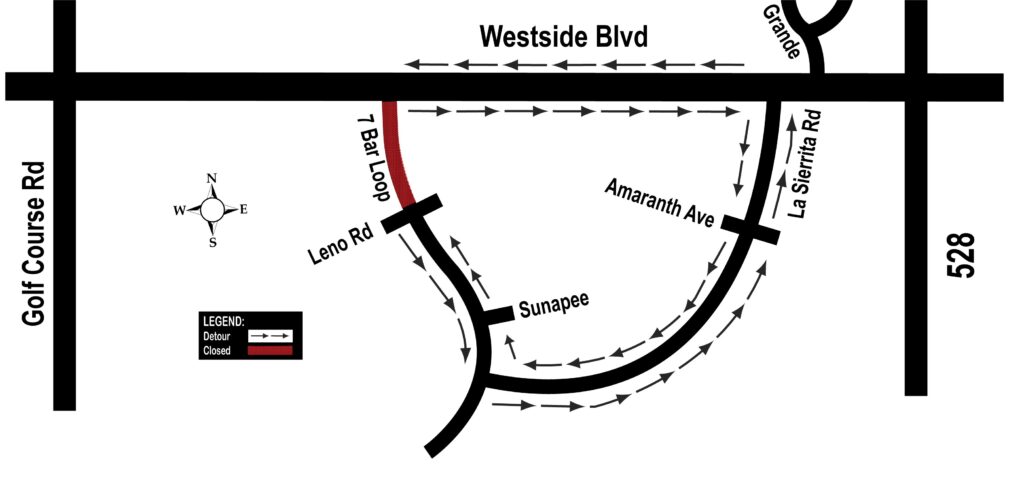 Regular work hours are Mon.-Fri., 7 a.m.-5 p.m., although the contractor may work longer hours or on weekends if needed. All construction is weather permitting and subject to change without notice.
CONTACTS for questions and concerns or to sign up for email updates on the project:
Patti Watson, 505-245-3134 office; 505-269-9691 cell; pattiw@cwastrategic.com
Ty Stevers, 505-245-3138 office; 505-417-9989 cell; tys@cwastrategic.com