CORRECTED CONSTRUCTION UPDATE: 7 BAR LOOP TO REOPEN WEDNESDAY, JULY 6, 2022; LA SIERRITA TO CLOSE SAME DAY
Update as of Friday, July 1, 2022
DUE TO UNFORESEEN CIRCUMSTANCES:
Crews were unable to open 7 Bar Loop on Wednesday, June 29, 2022. Also, 7 Bar Loop will remain closed until Wednesday, July 6 and will reopen before crews close La Sierrita Road.
 
Crews will close La Sierrita from Westside Blvd to Amaranth Ave on Wednesday, July 6. La Sierrita is expected to be closed for about three (3) weeks, thru Wednesday, July 27, 2022. During this closure, residents will be able to use 7 Bar Loop as a detour (see first map below).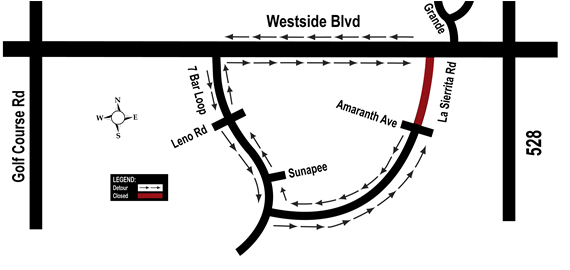 •  The sidewalk on the south side of Westside is CLOSED from Golf Course Rd to La Sierrita Rd through at least early July. Local residents can use 7 Bar Loop to La Sierrita as a detour.
•  Westbound traffic on Westside Blvd is reduced to one lane between NM 528 and Golf Course Rd.
•  Eastbound traffic on Westside Blvd is reduced to one lane between Golf Course Rd and NM 528.
•  Eastbound traffic on Westside Blvd has only one dedicated left-turn lane and one combination thru/right-turn lane at NM 528.
• When streets are open, traffic on La Sierrita Rd and 7 Bar Loop Rd is able to turn right and head eastbound on Westside Blvd, but is NOT able to turn left and head westbound on Westside Blvd. Motorists can access westbound Westside Blvd by taking 7-Bar Loop Rd south to Driftwood Ave, heading west on Driftwood Ave, then north on Golf Course Rd. Westbound motorists on Westside Blvd can access La Sierrita or 7 Bar Loop Rd via Golf Course Rd south to Driftwood Ave, then east on Driftwood Ave to 7 Bar Loop Rd.