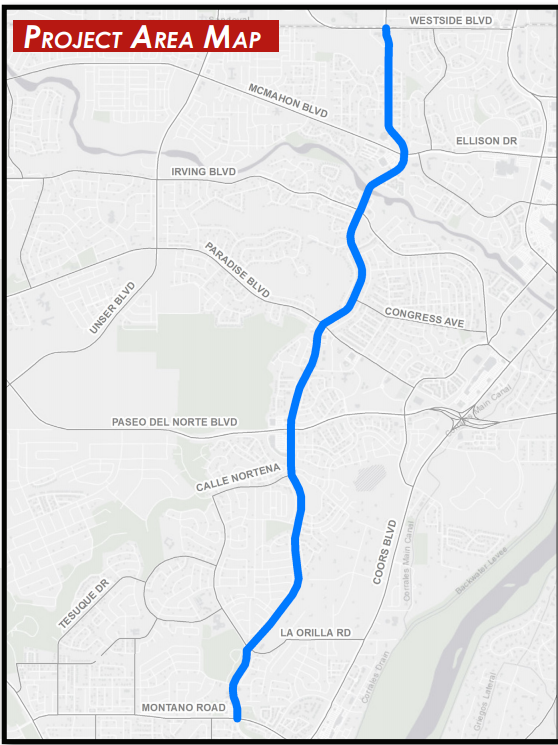 The Taylor Ranch/Golf Course Complete Streets project was initiated by Council President Borrego at a cost of $118,000 allocated in the 2020 City of Albuquerque Budget clean-up bill R-20-118. See Council President Borrego's letter detailing the project as well as a project brief at the bottom of this message.
The meeting flyer announcing a general neighborhood meeting occurring at 6:00p.m. Tuesday, September 7th  via Zoom to discuss the Taylor Ranch/Golf Course Complete Streets project. Join details are in the flyer and also shown below.

Please consider visiting the Taylor Ranch/Golf Course Complete Street Study project website to submit comments and recommendations. It includes a video of a recent neighborhood meeting presentation on this Complete Streets project as well as copy of the presentation itself and is found at https://www.cabq.gov/council/find-your-councilor/district-5/complete-streets-planning-study-on-taylor-ranch-road-and-golf-course-road
One additional public meeting to gather input and discuss recommendations on the Taylor Ranch/Golf Course Complete Streets Project is set to occur October 21, 2021. The October meeting location is pending and will be provided at a later date.
Council President Borrego and the project team are excited about the possibilities of Golf Course as a central District 5 corridor and look forward to meeting with neighborhood members on September 7th to discuss the project in greater detail!
Project Summary
Council President Cynthia D. Borrego, in partnership with the Mid-Region Council of Governments (MRCOG), is conducting a Complete Streets planning study on Taylor Ranch Road/Golf Course Road between Montaño Rd. and Westside Blvd. Specifically, the study seeks to determine the safety issues and challenges for pedestrians, bicyclists, and transit riders of all ages and abilities along the corridor. The principal goals of the study are to inventory the existing conditions, identify safety concerns, document gaps in the pedestrian and bicycle networks, and present recommendations for roadway improvements, as well as recommend character enhancements along the corridor.
The City has contracted with Bohannan Huston, Inc. to conduct the study. Please contact Aaron Sussman at asussman@bhinc.com or 505-923-3341 with comments or questions. To learn more about the project, go to: https://www.cabq.gov/council/find-your-councilor/district-5/complete-streets-planning-study-on-taylor-ranch-road-and-golf-course-road