Update as of Thursday, August 26, 2021
CONTACT for questions and more information:
Patti Watson, 505-269-9691 cell; 505-245-3134 office; pattiw@cwastrategic.com

For more information or to sign up for email construction updates, visit:www.westsidewidening.com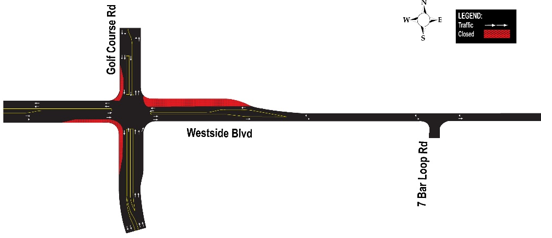 NEW: From Friday, August 27, through Friday, September 3, crews will be installing a temporary traffic signal at the intersection of Golf Course Rd and Westside Blvd and removing the permanent traffic signal. During this work, the right-hand turn lane for eastbound traffic on Westside Blvd heading south and the right-hand lane on southbound Golf Course Rd just south of Westside Blvd will be closed.Eastbound motorists on Westside Blvd will be able to turn right and head south on Golf Course Rd, but should expect delays.
ONGOING: Crews are continuing construction on the first phase of the Westside Blvd widening project, which is expected to last through late fall 2021. The entire project is expected to be completed in spring 2022. As part of this phase, Westside Blvd has westbound traffic shifted and reduced to one lane west of Golf Course Rd.

Please note the contractor will open the straight thru lane for westbound traffic on Westside Blvd when possible, but close it occasionally for safety reasons. When there is only one westbound lane open on Westside Blvd west of Golf Course Rd, there may be delays. Motorists should seek an alternate route when possible.

Regular work hours are Mon.-Fri., 6:30 a.m.-5 p.m., although the contractor may work longer hours or on weekends if needed. The contractor will not be working on Monday, September 6, in observance of the Labor Day Holiday, but barricades will remain in place.

COMING LATER IN SEPTEMBER: The contractor will close Grande Blvd at Westside Blvd. Advance notice will be provided when a date for this closure is scheduled and a designated detour route will also be provided.


All construction is weather permitting and is subject to change without notice.