CREWS TO CLOSE RIGHT LANE AND BIKE LANE OF EASTBOUND WESTSIDE BLVD BETWEEN BLACK ARROYO AND GOLF COURSE ROAD FOR JUST OVER ONE MONTH BEGINNING TUESDAY, JUNE 28 FOR CONSTRUCTION OF NEW RAW WATER TRANSMISSION PIPELINE
Update as of Friday, June 24, 2022 (NOTE: All work is weather permitting and subject to change without notice.)
Starting Tuesday, June 28, 2022 and lasting through about Thursday, July 28, 2022, the Water Authority and its contractor, New Mexico Underground, will close the right lane and bike lane for eastbound traffic/cyclists on Westside Blvd. from East Black Arroyo/Linear Park Trail to west of Golf Course Road for installation of a new 20-inch water pipeline.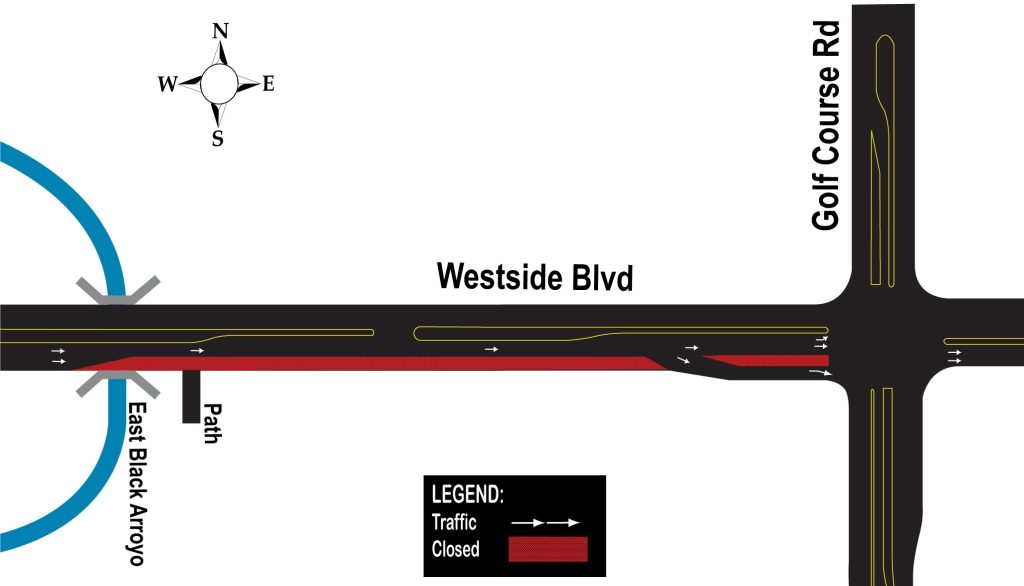 One thru lane, one right turn lane and one left turn lane will remain open at the intersection of eastbound Westside Blvd and Golf Course Rd.

Motorists and bicyclists are asked to share the road in the construction zone where only one lane is available.

Additional construction phases will follow. Construction on this Raw Water Transmission Pipeline segment is expected to last through December 2022. Regular work hours are Monday-Friday 7am-5 pm although the contractor may work longer hours or on Sundays as needed.

STAY IN THE LOOP DURING CONSTRUCTION
Periodic updates will be sent throughout construction. Please feel free to forward this notice to anyone you believe might be interested. Email pattiw@cwastrategic.com or tys@cwastrategic.com to sign up for project updates.

About the Raw Water Transmission Pipeline
Construction on this new 20-inch pipeline will provide "raw" or nonpotable water (not suitable for drinking) to support Intel's multi-billion-dollar investment in upgrades and expansion at its Rio Rancho facility. Intel is an existing Water Authority customer and the planned upgrade is expected to create new jobs and economic development opportunities for our area. Several segments, or phases are included in this project, which is expected to last through the end of 2022 or early 2023.