CONSTRUCTION CONTINUING ON WESTSIDE BLVD
WIDENING PROJECT
Update as of  Monday, October 18, 2021
CONTACT for questions and more information:
Patti Watson, 505-269-9691 cell; 505-245-3134 office; pattiw@cwastrategic.com
For more information or to sign up for email construction updates, visit:www.westsidewidening.com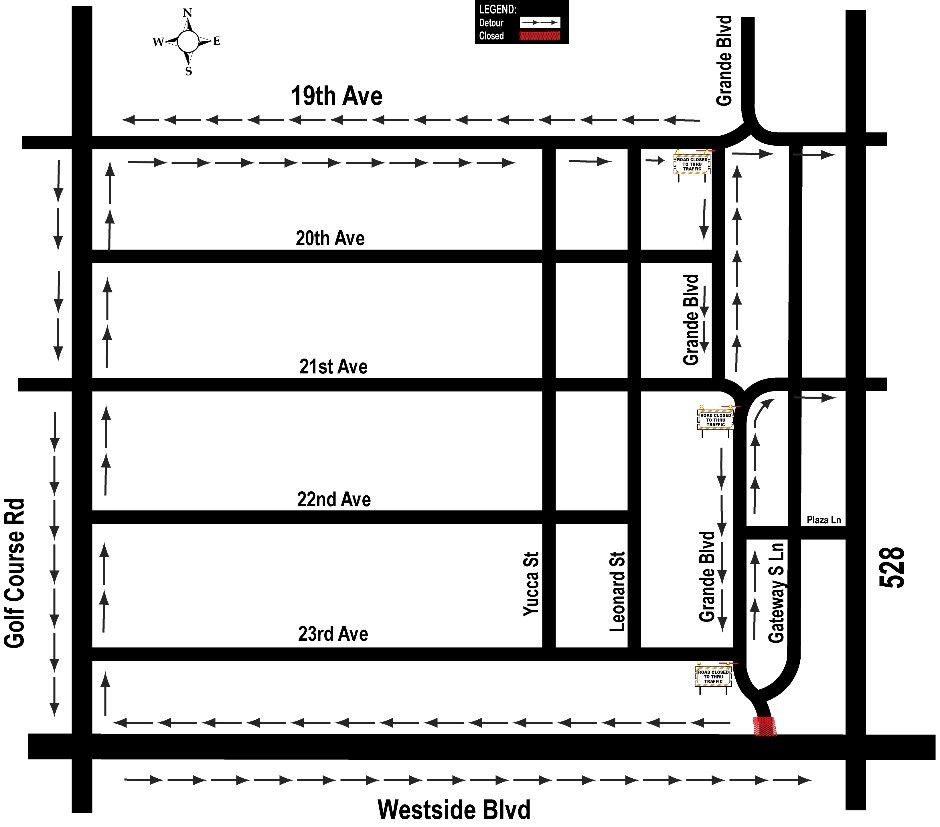 • Westbound traffic on Westside Blvd will be detoured north on Golf Course Rd, then east on 19th Ave to access Grande Blvd.

• Northbound traffic on Grande Blvd will be detoured west on 19th Ave, then south on Golf Course Rd to access Westside Blvd.

• Traffic on Grande Blvd will continue to be able to access NM 528 from 21st Ave.

ONGOING: All but one lane of westbound Westside Blvd. is closed from NM 528 to west of Grande Blvd. Also, one of the two left-hand turn bays from northbound NM 528 to westbound Westside Blvd is closed. Westside Blvd has westbound traffic shifted east and west of Golf Course Rd, with traffic reduced to one lane west of Golf Course Rd.

Regular work hours are Mon.-Fri., 6:30 a.m.-5 p.m., although the contractor may work longer hours or on weekends if needed. All construction is weather permitting and is subject to change without notice.