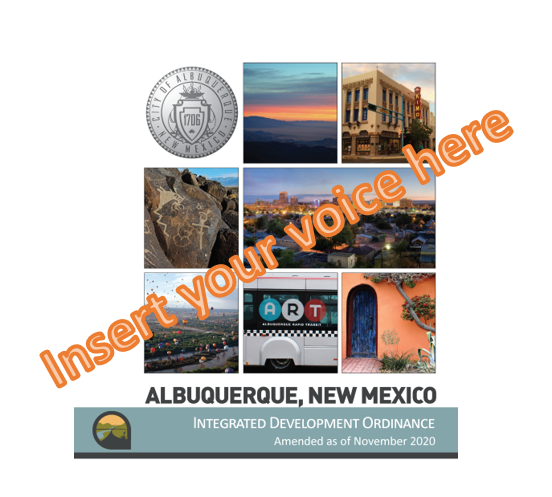 As part of the commitment to improving the IDO every year, Planning staff has submitted the annual update to the Integrated Development Ordinance for 2020.

This update involves 2 separate sets of proposed changes:
You can learn more about these proposed changes to the IDO on the project website by clicking the links above.

Planning staff will host a "study session" / open house for the public on Thursday, December 17 from 11:30 a.m. to 1:30 p.m. via Zoom. Staff will give a short presentation with an overview of key changes, and then staff will answer questions in breakout rooms for folks who have similar questions.

There are 3 steps in the City's review/decision process, which is expected to take at least 4 months:
The Environmental Planning Commission (EPC) reviews and recommends.
The City Council's Land Use, Planning, and Zoning (LUPZ) committee reviews and recommends.
The City Council decides.
Each of these steps includes opportunities for public comments. Throughout this process, City staff will continue meet with individuals and groups to answer questions and help develop comments/suggestions for decision-makers to consider.

The Environmental Planning Commission (EPC) will review these proposed changes and take public comments at a hearing on Thursday, January 21 at 8:30 a.m. via Zoom. EPC will make a recommendation to the City Council, which will make the final decision.

Please stay involved throughout the process to help improve the IDO to work better for you and your neighbors.