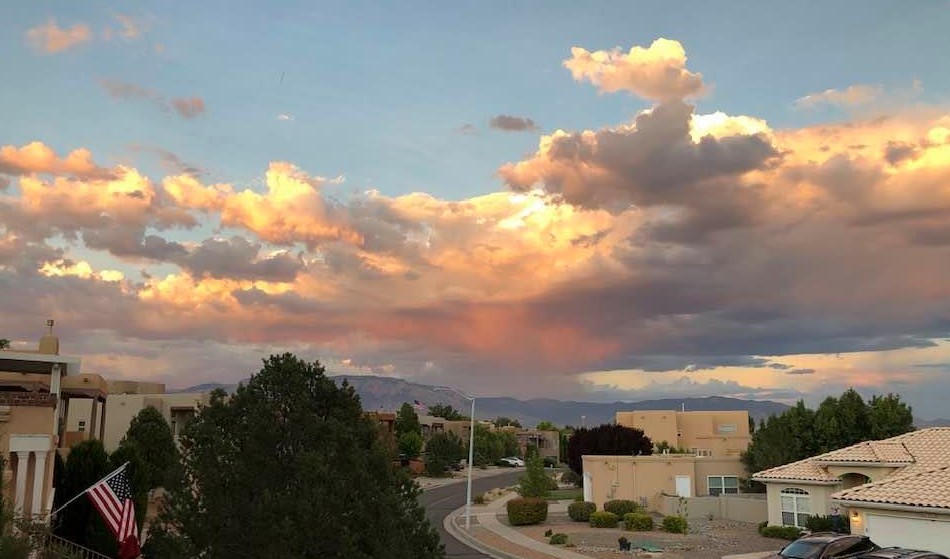 The different rules from the City and State during the last 5-6 months have definitely affected life here on the Westside. One thing we have noted is that many more of our neighbors are taking advantage of the great Albuquerque weather and our walking trails within the neighborhood. It is nice to see more strollers, bikes, and walkers out and about and hear the laughter of children as they play. If you haven't had a chance, please walk the newly refurbished trail between Seven Bar and Sierrita. It turned out quite nice and the word on the street as we go to print is that John Currier is asking for quotes for the section from Farola to Seven Bar.
There has been activity adjoining our community as well over the last few months. There are plans to build a 208-unit four story apartment complex on the southern-most vacant lot along Golf Course Blvd. The HOA was notified of the plan for Design Review in March. We have supported direct communication between our residents and the developer via email and USPS mail. In addition, we hosted an initial meeting with the developers and concerned citizens. There is also a core group of concerned residents attending the City Development Review Board (DRB) Meetings. For more information regarding the apartments visit the Announcements page on our website and search "development". There are maps, design information and meeting minutes located there.
Another item that is happening along our border is the expansion of Westside Blvd to four lanes from NM 528 to Golf Course road. The last update we have is that the funding has been authorized and construction is scheduled to begin in the spring of 2021. We should also keep in mind that the vacant lot at the southeast corner of Golf Course and Westside behind our neighborhood is still for sale and could be developed as well. We will post updates to the website as we get them.
Speaking of the website, we hope that everyone is enjoying the new look, feel and capability. Nena Perkin is doing a fantastic job of managing the website which, among other things, provides us with community links and updates. In addition, there is a new Homeowners Only area which we hope everyone will login and follow. We expect to use this section to ask questions and post polls to get input from all homeowners on activities we are considering for the future. Thanks to Candyce Jacobs, Communication Team member, the HOA has a Facebook presence – search Seven Bar North Community to like and follow the page.
We are actively looking for volunteers for a Neighborhood Watch program. We have received input regarding concern about auto theft crime and are looking for Block Captains and others who would like to participate. If you are interested please drop a note to BlockCaptain7BarNorthCommunity@gmail.com. Thanks!
One more item we'd like to mention is that all of our HOA activity – landscape monitoring, finance, communications and oversight is done by neighbors volunteering their time. We are always in need of additional volunteers. If you would like to help out and support your community, please contact Corder & Company (505-896-7700) or email associations@corderandcompany.com – they will refer you to the correct contact!
Have a great rest of the summer everyone!