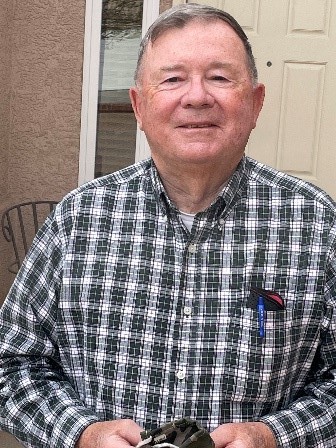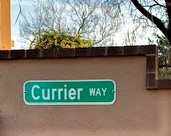 John Currier has been a resident of Seven Bar North since July 2000. He is also the longest serving volunteer for the HOA. John has held almost every role in the HOA since the developers turned the HOA over to the community during the winter of 2000. He served as a Board Member from 2005 through 2016, but his true passion is the landscaping. John established our Landscape and Maintenance Committee in 2001 and still serves as the team's chair. He has also volunteered for the Compliance and Architectural Control teams.
In recognition of John's dedication to the Seven Bar Community, the HOA is renaming our walking trails to 'Currier Way' and mounting signs signifying this where the trails cross La Sierrita and Seven Bar North. The timing seems appropriate since John and the Landscape Team (John and Dubra Karnes-Padilla) just finished managing the two-year project to refurbish all four sections of our trail system which look wonderful.

Currently, the Landscape Team is working with Yellowstone on a project to add color to La Sierrita. We had to remove trees due to fire blight on our Bradford Pear trees and borers in our Locust trees and are replacing them with other more tolerant tree species. They are also upgrading our flowerbeds on the south end of Seven Bar North.
You may often see John out pruning and taking care of our trees. He is a forester and well-trained for the task. He was a Forest Service Hydrologist (the second one ever hired!) for 32 years before he retired as an Assistant Director. John also has a PhD in Earth Resources /Hydrology from Colorado State. With his expertise, we are very lucky to have him volunteering in our community.
If you happen to see John out and about in the neighborhood pruning trees or checking our landscaping and watering systems, be sure to say hello and thank you. He is always quick with a smile, dry humor and sage advice about our plantings. His volunteering in our community is one of the main reasons our common areas flourish and look so attractive.
So, thank you John! As we walk Currier Way, we will be grateful for all that you do for the Seven Bar North Community!