Summer 2021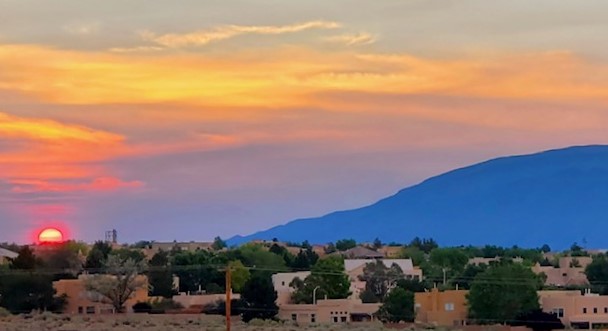 BOARD CORNER
Scott Templeton, HOA Board President
HOA Summer 2021 Activity
Hello everyone! We hope you are having a great summer, enjoying New Mexico sunshine and the ability to move life back towards normal from COVID protocols. One of the nice things we noted during the pandemic was the number of residents walking the neighborhood and trails. While walking Currier Way, we hope you enjoyed the landscaping and noted that all four sections of our trails have been refurbished over the last few years. You might have also noted the increased color in the foliage along Sierrita as part of our 'Spring Beautification' initiative.
Recently we established a Communications Team, a group of volunteers who besides publishing the newsletter, have made the Seven Bar North website a go-to place for current information about Albuquerque happenings, community information, construction updates regarding Westside and the Golf Course Apartments, and more. The website is updated regularly. If you haven't had a chance to check it out, it is worth a visit. The Team has also established a presence for us on Facebook and Next Door.


Speaking of volunteers, our HOA community needs your help! Did you know the HOA is managed completely by volunteers from our neighborhoods? Currently we have fewer than 10 volunteers including the three Board Members. These volunteers interact with Corder and Co., our property management company which does most of the heavy lifting regarding our covenants and Yellowstone, our landscape company. The HOA is actively recruiting volunteers and seeking input on the direction for the HOA in the future.


The Seven Bar North HOA was created by the builder of the subdivision to protect their interest. The developer wrote the bylaws, covenants and set the rules that govern our subdivision today – over 25 years later. Our Covenants and Bylaws are available on our Governing Documents webpage. Any additions, changes or deletions to those governing documents require a two-thirds vote among our homeowners. We have 648 homeowners which means 435 votes are needed. Not an easy task when we have fewer than 100 residents at our annual meeting and some of those from the same household. (Each household is allowed one vote.)


MANAGER'S CORNER
JACK CORDER, CORDER AND COMPANY
It is almost fall! Summer was warm and enjoyable and the monsoon rain is always welcome in the desert southwest.


Along with the rain, however, come WEEDS. Staff is in HOA neighborhoods on a regular basis and are noticing weeds popping up all around the subdivision. We encourage you to take care of the little ones before they grow into big ones. In our efforts to work with our homeowners, we always send a courtesy notice to let you know we saw something that could be a problem if it is not taken care of soon.


If you need help taking care of your yard, contact our office. We can provide the names of a number of yard care companies to help you. Each company has a fee schedule with varying prices depending on the scope of work that you are asking for.


WELCOME to our newest team member, Sandy Diaz. Sandy comes to us with over 10 years of experience with one of the largest HOA management companies in the country. She is looking forward to working with Seven Bar homeowners and the HOA Board.


The annual meeting has been scheduled for November. We look forward to seeing you at the meeting where we discuss what is happening in and around the subdivision.


Anytime you have questions or see something going on in the subdivision that worries you, please let our office know so we can get you answers to your questions or address a problem as needed.
Compliance Team

Scott Campin, Chair
After my first full year as Compliance chair, I'd like to first thank everyone for their diligence keeping their homes and yards looking nice and attractive. The trend seems to be where the majority of violations are corrected after the first notice. We're at the tail end of the summer monsoons and those pesky weeds are a constant issue, so be mindful of that and stay on top of things.


Last year Corder and Company introduced new HOA management software that has made it much easier to track violations. The software allows us to see the particular violation in question and note the time and date of the observation. The team is also working together and all 2nd (or 3rd) violations are triple checked by Corder and Company, as well as the two Compliance team members. This helps make sure that we are all in agreement with any violations that move forward. I know there are always improvements with any process, but I do feel like we have done a good job of making things more efficient and agreeable.


As with all of the HOA teams, we are in need of people to volunteer and contribute. It would be great if we could have volunteers from each of our 7 Bar North communities on the team. If you are interested, please

submit the

volunteer form online or reach out to Corder and Company and they can pass your information along to me.
Architectural Control Committee

Stephen Arguelles, Chair
Fall is upon us! Home projects often continue into this season. Remember to submit an ACC application for any changes to your home, even for something as minor as installing gutters. Refer to the Covenants, Conditions and Restrictions (CCRs) you received when you bought your house. The CCRs are also available on our website.


To prevent issues with home projects, get an ACC approval form from our website or call Corder & Co, 505‑896‑7700, and ask them to send the ACC form to you. Submit the form online or send it to Corder and Company. The increased usage of our website, over the last year, has driven a lot of requests to come in electronically. We're trying to make it as easy as possible to submit an application, and are hoping more homeowners will use this easy method of communication. The ACC can typically approve or deny your request within a week.


Please do not start a project without submitting the approval form. That turns a simple process into a situation that's difficult for everyone. Remember, the goal is to preserve the neighborhood environment and protect the value of your home.


Landscape and Maintenance Committee

John Currier, Chair
Our landscaping company, Yellowstone, works the following schedule:
Growing season - March through October: Property will be treated on a three-week cycle.
Week 1 Both sides of Seven Bar
Week 2 Both sides of Sierrita
Week 3 Westside Blvd and all the trails
Non-growing season - November through February: Property will be treated on a five-week cycle.
Week 1 West side of Seven Bar
Week 2 East side of Seven Bar
Week 3 West side of Sierrita
Week 4 East Side of Sierrita
Week 5 Westside Blvd
The cobbles, stone, and stabilized crusher fines on the re-constructed walking trails worked as designed during the one-half inch plus rainstorm that occurred on July 17th. There was no major damage to the walkways.


Dubra Karnes-Padilla
Landscape Committee Volunteer
The flowerbeds at the south entrance of our HOA are looking especially nice this year thanks to the rain and Beth Adams, the assigned Yellowstone Landscaping supervisor for Seven Bar North. In the spring, Beth met with John Currier and me to discuss how to improve the water flow to the west flowerbed. She got her crew right on it and the irrigation flow to that bed was addressed.
Beth also gave us a list of plant suggestions to add more color and interest to both flowerbeds. In late May, with our HOA Board's approval, a crape myrtle, nandina bushes, and a variety of flowers were planted in both beds. We expect them to add more beauty as they mature. For now, we hope all our HOA neighbors are enjoying the added color as you pass by.
Bloom where you are planted.
Nena Perkin, Communication Team Chair
Seven Bar North HOA Seeks to Grow Homeowner Engagement
Many of our Seven Bar North residents frequently express joy and satisfaction in having chosen to live in our great neighborhoods. Our reputation as "a desirable location" speaks for itself. We should celebrate our ongoing efforts to maintain and improve our homes and yards in an attractive and cohesive manner. Our advantageous status is a testament to the covenants serving us well for 26 years. Perhaps now is the time to imagine how we can build on our success and strengthen resident engagement with the HOA and our community.


First and foremost, we would like to spark an interest in attendance at the annual meetings. It is important to have a quorum at these meetings. A voting quorum for our HOA is two thirds of our membership (648 homes). We need 435 votes to conduct official business. That's why we would like to increase attendance at the meetings. We would also like to encourage more volunteerism by adding volunteer committees and by engaging with residents to support our existing committees.


One committee we would like to get off the ground is a Neighborhood Coordination Committee, comprised of one representative from each of our eight neighborhoods. Although Seven Bar North as a whole experiences common concerns, i.e., traffic, speeding, suspicious activity, etc., we recognize that each of our subdivisions may be grappling with their own unique circumstances. Establishing communication from each neighborhood via a representative familiar with their respective community would be invaluable in guiding HOA decisions. The chair of the committee would also serve on the Executive Council. Each area coordinator would also be asked to serve, or seek a volunteer to serve, on the Neighborhood Watch Committee for their area.


Resident turnover occurs in all communities. So far this year, we have gained over twenty new neighbors. It is important that our new residents feel welcome. We are proposing establishing a Welcome Committee to orient our new neighbors regarding the HOA, the neighborhood, and the community at large.


Seven Bar North Real Estate News
Albuquerque is still in a Sellers' market and with 1,109 homes on the market, we have a very low inventory level. This low supply drives the price point higher, where most Buyers are paying a premium. Mortgage rates are still very low!
Seven Bar North is still proving to be a highly desired neighborhood and most homes are selling quickly and over asking price!
*Price per square foot may vary with smaller homes usually selling for higher on average per sq/ft than larger houses.
7 Bar North Home Sales
Jan 2021 – Aug 2021

7 Bar North Home Sales
Jan 2020- Aug 2020

Seven Bar North Traffic/Pedestrian Challenges
Joan Gillis, Communication Team Volunteer
Because one of our homeowners was recently almost run down at the crosswalk on Seven Bar at the turquoise bridge over the arroyo, some of the members of the Executive Council contacted the city to express concerns about speeding on Seven Bar and Sierrita, lack of crosswalks, poor signage at the arroyo crosswalk, and the non-existence of handicap accessibility to our paths where they cross Seven Bar and Sierrita.


Our City Councilor, Cynthia Borrego arranged for a phone meeting with an officer from the APD NW Area Command, a city traffic engineer, members of the HOA Executive Council, two homeowners who had expressed concerns and the Councilor herself.


The city employees listened to our concerns and agreed to investigate and offer what they might be able to do given limited city resources. The APD officer suggested they could provide a speed tracking sign and provided one within two days. We are awaiting a report on the data collected and the planned course of action.


At the end of June, two Executive Council members met with a City Traffic Engineer, and Street Maintenance personnel to review our safety concerns at the arroyo crossing and the walking paths crossings at Sierrita and Seven Bar. We discussed ideas about additional signage, the need for crosswalks, and ramp access for handicapped and strollers.


The result is that the city will do a cost/benefit analysis of the improved signage at the arroyo crossing. While the crosswalk is used by our residents, it is not within the bounds of the HOA. Ramp access at the trail crossing on Sierrita isn't possible due to the slope of the street and the pitch of the entrance to the path on the west. The city did agree to add a ramp at the trail crossing on Seven Bar North. It was completed at the end of July.


We still have open queries to the city regarding putting crosswalks on Seven Bar and Sierrita at the walking paths. We are also awaiting a response on improvements at the crosswalk at the arroyo. We are grateful for the time and effort from Councilor Borrego's office in reviewing our concerns and the progress made thus far.

City Initiatives Affecting Seven Bar North
Visit our website for updates on the following initiatives and more:

Kudos to Seven Bar North Residents
Know anyone in our community deserving of recognition for their accomplishments and/or public service? Please forward the information to us at info@7barnorthhoa.com and we will post on our Homeowners Only Neighborhood Announcements page.


To my neighbor dog owners:


It is true, there is no Poop Fairy, but if you do not clean up after your dog, someone else will have to do it. And that's not fair.


Cleaning up after your dog is really easy. HOA dues pay for three dog stations equipped with bags for dog waste cleanup. Disposal Bag Fairies (disguised as volunteers from the HOA), regularly refill the stations with bags. On Mondays, Yellowstone, our landscaping company empties the pots. It can't get much easier.
Please be a good neighbor and responsible dog owner. Clean up after your dog.


Respectfully,
A neighbor dog owner