Spring 2021
BOARD CORNER
DD Lane, HOA Board Secretary
Spring 2021 HOA News and Activity
Bulbs and trees are blooming, weeds are popping up, and neighbors are out in their yards working on projects, all bringing a renewed spirit of life and hope. I love my daily (ok, most days) dog walks enabling me to see the hustle and bustle of our community, allowing me to gawk at beautiful changes made. It is apparent we take great pride in our homes. The neighborly waves from driveways remind me why I choose to live in 7 Bar North.
April 1st – no, not April Fools – but the beginning of verifying weed compliance throughout the community. Yes, it is that time of the year!
Not only do we see weeds popping up at our homes, but they are appearing throughout the common area landscaping, too. John Currier is working with Yellowstone to have our common areas weed free as we begin rolling out compliance procedures in our neighborhoods.


You may notice this is not HOA President, Scott Templeton, writing the Board Corner article this round. Do not worry, Scott is in excellent health. We've decided to share the responsibility of writing the newsletter article. I'm pleased that Scott and Stephen have entrusted me with this.


Nena Perkin, Joan Gillis, Candyce Jacobs, and Scott Templeton have made excellent progress in increasing our level of communication with HOA members. I hope everyone reads and views not only the newsletter, but also our community website, our Facebook group page, and our Next Door group. These are excellent resources for finding what is going on in our community. We are also using email to notify homeowners of issues of immediate importance, such as public meetings that directly affect our community. Please ensure Corder Management has your updated email address so you will receive these notices. We continue to send out postcards as needed but wouldn't it be lovely to focus this spending on a new tree for the common area!


John Currier has been a resident of Seven Bar North since July 2000. He is also the longest serving volunteer for the HOA. John has held almost every role in the HOA since the developers turned the HOA over to the community during the winter of 2000. He served as a Board Member from 2005 through 2016, but his true passion is the landscaping. John established our Landscape and Maintenance Committee in 2001 and still serves as the team's chair. He has also volunteered for the Compliance and Architectural Control teams.


In recognition of John's dedication to the Seven Bar Community, the HOA is renaming our walking trails to 'Currier Way' and mounting signs signifying this where the trails cross La Sierrita and Seven Bar North. The timing seems appropriate since John and the Landscape Team (John and Dubra Karnes-Padilla) just finished managing the two-year project to refurbish all four sections of our trail system which look wonderful.


The City of Albuquerque and I, as your Councilor, broke ground on Westside Blvd.'s expansion on March 17, 2021. Many of you requested information on Westside' Blvd's expansion effects on existing residential properties in the area.


Phase I—Construction, includes widening Westside Blvd. from two to four lanes between Golf Course Rd. and NM 528 and will also improve traffic flows at several major intersections. The project includes a multi-use trail on Westside Blvd.'s north side, a sidewalk on its south side and bike lanes in each direction (east and west).


Jack Corder, Corder and Company
Spring has Sprung!! COVID-19 is still with us but we are getting closer to being able to return to normal - WHATEVER THAT WILL BE!


With the weeds coming up and travel plans being made, we encourage HOA residents to pay close attention to their yards, keeping them clean and neat. Homes in Seven Bar are selling at a record pace partly because our homeowners do a good job of keeping up with the maintenance of their homes.
We have started our inspections again and letters are going out to the homes that need attention. Please do your best to keep up with the yards so we do not have to send you "THE LETTER."


The City of Albuquerque has broken ground on the Westside Boulevard project and in a short time we will be seeing activity on the project. Real estate in the area is undergoing changes with nearby new projects in the planning stages or in the final stages of approval. We are working with the Board to keep everyone informed about what is going on but if you have questions, please call the office (505-896-7700) and we will give you names of people to talk to about a specific project.


We have received several checks for fees lately that were made out to Corder and Company. The banks will not accept the checks for deposit into the bank account for Seven Bar North if they are made out to Corder and Company. Please make your checks payable to Seven Bar North so they do not get returned to you to be reissued. If the check has to be returned, there may be extra fees or late fees charged for non-payment or for missing a deadline. Please call the office, if you have any questions about your payments.


Kudos to AMAFCA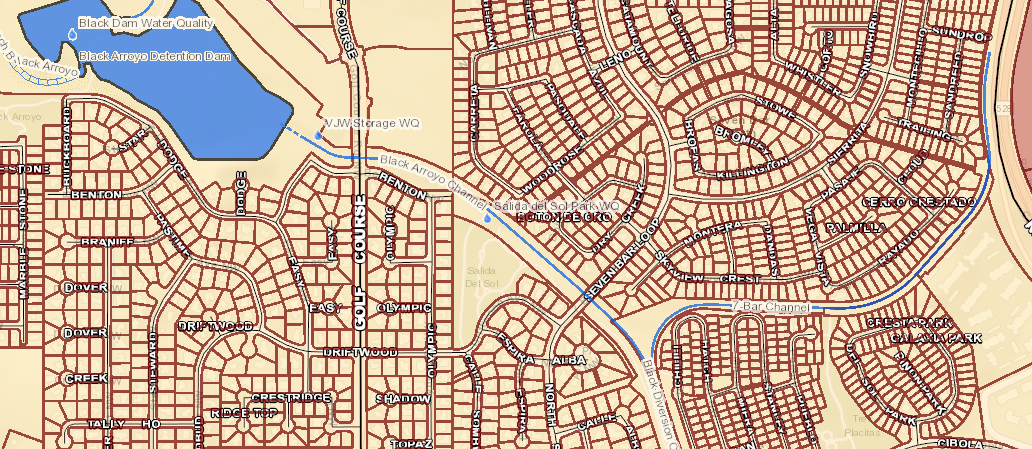 Great cleanup job, AMAFCA*! For residents who walk the 7 Bar Channel and Black Arroyo Channel AMAFCA access road, you may have noticed the massive cleanup in February/March. Not only was the road graded, but trash was cleaned up in the channel and on the access road. The cleanup extended to right up against the Seven Bar North east and south walls.


We would like to remind our residents bordering this area to please refrain from dumping trash and yard debris over their wall. This is considered illegal dumping. Please keep Seven Bar North looking clean and desirable from all vantage points.


Keep 7 Bar Communities Safe!
Candyce Jacobs, Seven Bar North Neighborhood Watch
Although we live in a safe neighborhood there are times when issues arise. Some of our neighborhoods have been visited by criminals during the early morning hours. Many of these criminals are looking for crimes of opportunity. Home surveillance cameras have captured individuals checking for unlocked car doors and open garages. These criminals come and go under the cover of darkness. Please do your part and double check that your vehicles are locked and garage doors are closed. The more successful thieves are, the more likely they are to return. Avoid providing criminals with opportunities by following these guidelines:


Lock vehicle doors and check them before going to bed
Lock doors to your home.
Keep the garage door closed.
Lock the pass-through door in your garage to prevent entry into the house.
Reach out to your neighbors. Exchange phone numbers and communicate.
If you are expecting a package, create spaces where they can be placed out of sight from prying eyes.
If it is an important package, talk to a neighbor about collecting it for you until you get home.
Eliminate opportunity, keep ladders and tools locked up.
Utilize lights at night.
Architectural Control Committee (ACC)

Stephen Arguelles, Chair
Summer is right around the corner and home improvement projects have already begun. Please remember, if you plan on doing any projects that include work to the exterior of the home, landscape, driveway, or walls, you need approval from the ACC beforehand. Here are some examples that would need approval: raising block walls, installing a side gate, pouring a concrete driveway or pathway, building gazebos/patios, adding hot tubs, sheds, or wind sails. One of the most common requests we get is to re-stucco or repaint the exterior of the home. Here is an excerpt from the Design Guidelines in Section 8.03 of our Conditions, Covenants, and Restrictions: "The exterior finish of homes must be principally stucco, the principal color of which shall be earth tones or muted pastels. Brick homes shall not be permitted, however, brick accents approved by the Committee may be permitted."


We typically can turn around an Approval or Denial of an application within a week. See our most recent ACC Requests. (Login required)


Compliance Team

Scott Campin, Chair
It's that time of the year again. The weather is getting warmer and the plant life is coming back into full bloom. Along with the beautiful plants and trees, the weeds are also popping up. Let's all do our part to keep the Association looking fabulous. Spring is a great time to get a head start on yard cleanup, landscape maintenance and weed control. Most of our homeowners do a great job of maintaining their properties which helps protect home values and ensures our community stays highly desirable. To all those homeowners – thank you!
While the majority of violations involve landscaping and weeds, the Compliance team works closely with Corder and Company to monitor compliance with other HOA covenants. Other common violations include vehicles parked on the landscaping/front yard and unapproved RV's parked or stored (long term) in the neighborhood.
We're still looking for people to help on the Compliance Team. If you are interested, contact Corder and Company 505-896-7700 or submit a volunteer opportunity form.
Landscape and Maintenance Committee

John Currier Chair
Our landscape maintenance contract has been renewed with Yellowstone. The work schedule will remain the same as noted below:
Growing season - March through October: Property will be treated on a three-week cycle.


Week 1 - Both sides of Seven Bar
Week 2- Both sides of Sierrita
Week 3- Westside Blvd and all the trails
Non-growing season - November through February: Property will be treated on a five-week cycle.


Week 1 - West side of Seven Bar
Week 2 - East side of Seven Bar
Week 3 - West side of Sierrita
Week 4 - East Side of Sierrita
Reconstruction of all the walking trails has now been completed.


Nena Perkin, Communication Team Chair
Great news! We are seeing increased traffic on our website where we provide information that is of value and interest to our residents. A recent post is about Spring Service Tips and Watering Recommendations from the 505Outside newsletter. We also include posts from the Office of Neighborhood Coordination newsletters that may be relevant to our community. Links to these newsletters are on our Community Resources page as well.


The Homeowners Only Neighborhood Announcements page provides neighborhood information solely for our residents. Each post, just like the public posts, allows for Comments. Please use this feature to let us know what is on your mind. We are happy to share your items of interest with our community. If you have neighborhood information you would like to share on the website, forward the information to info@7barnorthhoa.com.


If you have ideas for additional information to be included on the website, send your suggestions to info@7barnorthhoa.com. We look forward to hearing from you!
Seven Bar North Real Estate News
Albuquerque is still in a sellers' market and with 753 homes on the market, we have a VERY low inventory level. This low supply drives the price point higher, where most buyers are paying a premium. Conventional Mortgage rates are still relatively low as well!
Seven Bar North is still proving to be a highly desired neighborhood and most homes are selling within 1-3 days.
*Price per square foot may vary with smaller homes usually selling for higher on average per sq/ft than larger houses.
7 Bar North Home Sales
Nov 2020 – April 2021

7 Bar North Home Sales
Nov 2019 – April 2020